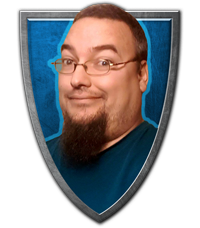 Show Schedule for
Éric Chiasson
Saturday February 03, 2018
FRANÇAIS
8:00 pm

|

Shediac Multipurpose Centre
Spectacle du Carnaval de Shediac

Doors Open 7:00 pm – Show at 8:00 pm

Advance Tickets available at Jean Coutu, 338 Main St., Shediac
506 532-4419
Saturday February 17, 2018
FRANÇAIS
9:00 pm

|

Wingate by Wyndham
Stand-Up Comedians

Doors Open 8:00 pm – Show at 9:00 pm
SOLD OUT
Saturday February 17, 2018
BILINGUAL
7:00 pm

|

La Caserne
HubCap Comedy Festival & Juste pour rire présentent: Le Bilingual Show: Hosté par Jass-Sainte Bourque

Join us pour une right good time avec des hilarious comics du Nouveau-Brunswick and Québec qui prouvent that we can swing both ways…d'un point de vue linguistique, bien sûr…not that there's anything wrong with that.
Après 15 ans d'absence de la scène, Eric a fait un retour en humour au début de l'année 2015. Il fait des spectacles partout à travers le N-B et, en 2016, commence à faire de l'humour en anglais principalement à St-Jean, Quispamsis, Bathurst et aussi quelques soirées au Comedy Nest de Montréal. De Décembre 2016 au mois d'Août 2017, il a participé 5 fois au soirée « open mic » du Bordel Comédie Club de Montréal où il se fait remarquer par l'humoriste François Bellefeuille, qui décide de l'embaucher pour une semaine complète au Bordel, devenant ainsi le second humoriste Acadien après JC Surette (et premier qui habite au N-B) à performer pendant une semaine au club Montréalais. Eric se rendra à Montréal pour une autre tournée de clubs au printemps et sera également en spectacles partout dans la province au cours de l'année 2018.