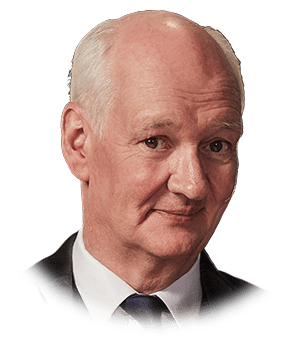 Saturday February 4, 2023
Colin Mochrie
Go Back Artist Website
 "Canadian comic genius" TV GUIDE 
Colin Mochrie is an alumnus of Toronto's famous Second City comedy troupe and is widely considered to be one of the leading improvisers in the world. 
He is most-recognized around the world as a star of the ubiquitous comedy Whose Line Is It, Anyway? After nine years as a regular on the British improvisation series Whose Line is it Anyway?, he became a regular on the American version hosted by Drew Carey, which ran for six years on ABC and three years on ABC Family. In 2011, the entire cast was reunited in Vegas for Drew Carey's Improv‐aganza, a new series which aired for one season on GSN. A new hit version of Whose Line is it Anyway? followed in 2013, featuring Colin, Wayne, Ryan, and new host Aisha Tyler, and is currently in its fifth season on the CW Network. 
A native of Scotland but life‐long resident of Canada, Colin has toured extensively worldwide for the past fifteen years alongside Whose Line castmate Brad Sherwood, performing a live improv show. Colin and Brad: Two Man Group has the distinction of being one of the longest running comedy tours in history. Most recently, Colin appeared at the 2016 and 2017 Edinburgh Fringe Festivals with a show he co-created, HYPROV. A huge festival hit, the show provocatively hypnotizes volunteers from the audience and then improvises with them, while they are under hypnosis. A North American tour is currently in the works. 
In 2007, Colin and Brad made international headlines and newscasts when they were joined on stage in Washington by the controversial Karl Rove for a rap song during the White House Radio and Televisions Correspondents Dinner. 
Appearing regularly in film and television, he was notably a cast member of CBC's classic news spoof This Hour Has 22 Minutes for two seasons. With his wife, Debra McGrath, he produced, wrote and starred in the CBC series, Getting Along Famously. 
Colin has garnered awards including a Writers Guild of Canada award (writing, 22 Minutes), three Canadian Comedy Awards (writing – 22 Minutes, "Pretty Funny Male" – Whose Line and Canadian Comedy Person of the Year 2013) as well as a Gemini Award (Best Ensemble, 22 Minutes). In 2010, Colin received the ACTRA Toronto Award of Excellence. Perhaps his greatest award to date was for Best Hollywood Appearance at the 2010 B‐Movie Awards (Jane White is Sick and Twisted). 
His first book of fiction, Not Quite the Classics, in which he uses the first and last lines of familiar classics as a launching and landing point and re‐imagines everything in between, was released by Viking, a publishing arm of Penguin Canada, in October 2013. The ebook version is currently available in the US at www.diversionbooks.com or www.amazon.com